September 2008
September 12 - Tom Pepe - AWIPS Test Team

While having lunch at a local eatery, Tom commented about the frequency at which the wait staff was refilling the water glasses. He said that they must be allowing for the evaporation rate.
February 2009
February 12, 2009 - Josh Huber and Bill Smith - AWIPS Test Team



Instead of paying attention to the actual text of last night's severe thunderstorm warning, Bill and Josh were decoding the V-TEC string at the top of the message:



/O.NEW.KLWX.SV.W.0009.090212T0307Z-090212T0400Z/

Operational New Product from Sterling, VA. Severe Thunderstorm Warning ETN 0009 from 1007 - 1100 on 2/11/2009.
November 20, 2009 - Kristen Delack, Lisa Mata, Anthony Nugnes, Dayna Pelc, Bill Smith and Lavonne Tongue - Facebook Post



Typical weeniness: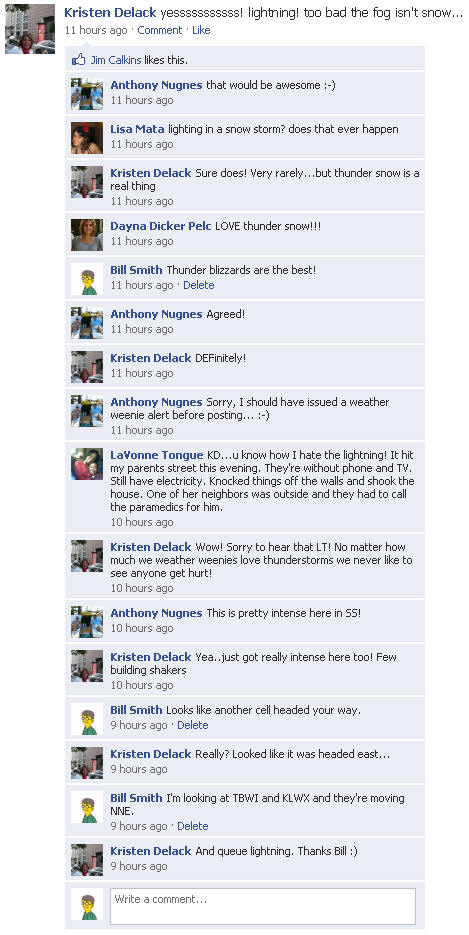 December 2010
December 12, 2010 - Bill Smith, GOES-R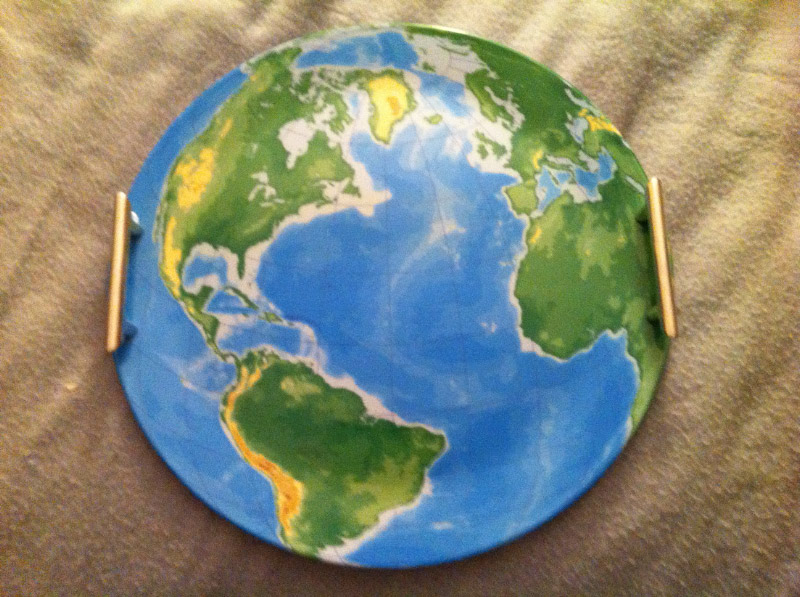 September 2011
Kira and Ant celebrated their second wedding anniversary by viewing Tornado Alley IMAX at The Liberty Science Center.
October 2011
Josh Huber - AWIPS Test Facility
Josh had a Discrepancy Report (DR) that needed a recent tornado watch for testing. One evening at home, he learned that his county was under a tornado watch. A little while later he thought, "Oh, I can test that DR tomorrow."
November 2011
Bill Smith and several anonymous NOAA/NWS Staff - NWSHQ/SSMC-2
There is a TV tuned to CNN in the elevator lobby in SSMC-2. The news anchor began to report the severe weather occurring in Alabama. As she uttered the word "tornado," Bill and several others stopped immediately, and their heads snapped to look at the TV.
February 2012
Josh Huber - AWIPS Test Facility
Josh commented on the weather forecast for next week. "Cold air is going to pour out of Canada like maple syrup!"
September 2012
Bill Smith - AWIPS Test Facility
While having lunch at Masi Hibachi in Silver Spring, Bill observed a mini-tornado in the smoke after the chef ignited cooking oil on the grill.
May 2013
Richard Barnhill and Bill Smith - AWIPS Test Facility
Richard qualified for his first entry today. While having lunch at Charm Thai in Silver Spring, Richard asked Bill Smith about the effects of temperature and insolation on tanning, and then asked about their effects on photosynthesis.
June 2013
Ashley Welty - AWIPS Test Facility
On Thursday, June 13, there was much hype from the news media concerning an approaching system of storms. The first line of storms passed through Silver Spring around 9 A.M. Minimal winds, little precipitation and one lightning strike were observed. A disappointed Ashley stated, "This is such a letdown!"
September 2013
Josh Huber and Bill Smith - AWIPS Test Facility
On Thursday, September 12, a group from The AWIPS Testing Facility were walking back from lunch at Masa Hibachi. While waiting to cross Georgia Avenue, some of us observed dark clouds to the north. Josh Huber stated, "That looks ominous." Bill Smith was already looking at a radar app on his phone, immediately followed by Josh doing the same.
July 2014
Richard Barnhill - AWIPS Test Facility
On Wednesday, July 2, at Mamma Lucia's in Silver Spring, we were observing the small condensation cloud at the base of Jennifer Wentzel's and Ricky Potter's coke tumblers. Richard remarked that the LCL was about 3 mm.
Teena Lavu, Bill Smith and James Washington - AWIPS Test Facility
On Tuesday, July 29, Teena Lavu, Bill Smith, James Washington and Jennifer Wentzel were walking to lunch. It was quite cool for late July and Teena remarked about the low temperature. Bill and James said almost in unison, "The Polar Vortex."
August 2014
Bill Smith - AWIPS Test Facility
While driving to work on the morning of Thursday, August 21, my wife, Marla, asked if I had looked into our car's Wi-Fi features. I mentioned that the car did have some Web access. Then I said it would be cool if it could display real-time radar to see if you were driving into a thunderstorm. Think of the storm-chasing possibilities. Marla then said, "I think you just made your weenie page." Busted!
October 2014
Jennifer Wentzel and Bill Smith - AWIPS Test Facility
On October 29, before lunch, Bill explained to Jennifer about the approaching cold front. After lunch, it was noticeably colder, and windier, as they walked back to the office. Jennifer complained, "Damn back of the cold front!"
November 2014
Ashley Welty Miller - NOAA
On November 14, while on her honeymoon, Ashley posted a video of a cloud rising over a bridge in Spain. This earns Ashely her second entry on the weenie page. Thanks to Jennifer Wentzel for bringing this to my attention.
February 2015
Jim Cantore - The Weather Channel
Jim wins hands-down for his reaction to thundersnow!
July 2015
Richard Barnhill, AWIPS Test Facility
On July 18, Richard was attending a Nationals game and posted the following tweet: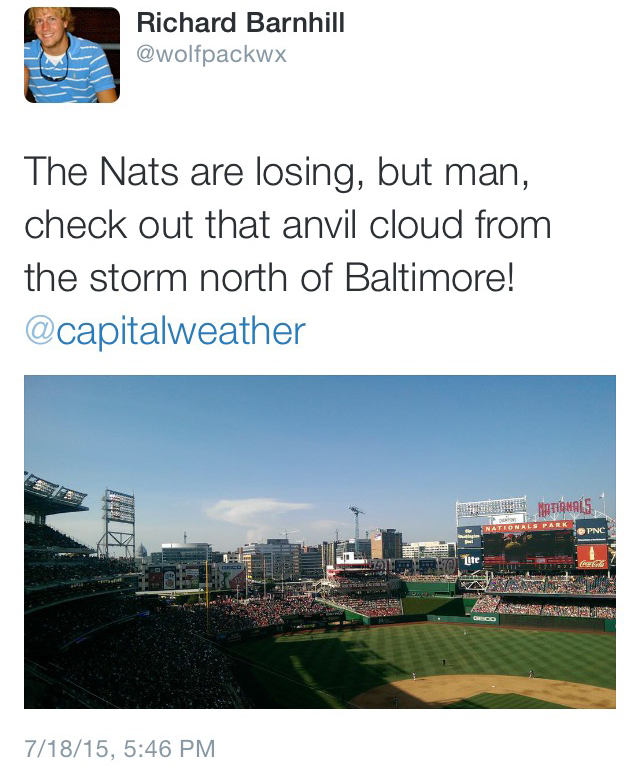 August 2015
Elizabeth Tournas, Twitter
On August 5, Elizabeth posted the following tweet, thus making her the first outsider to make the weenie page: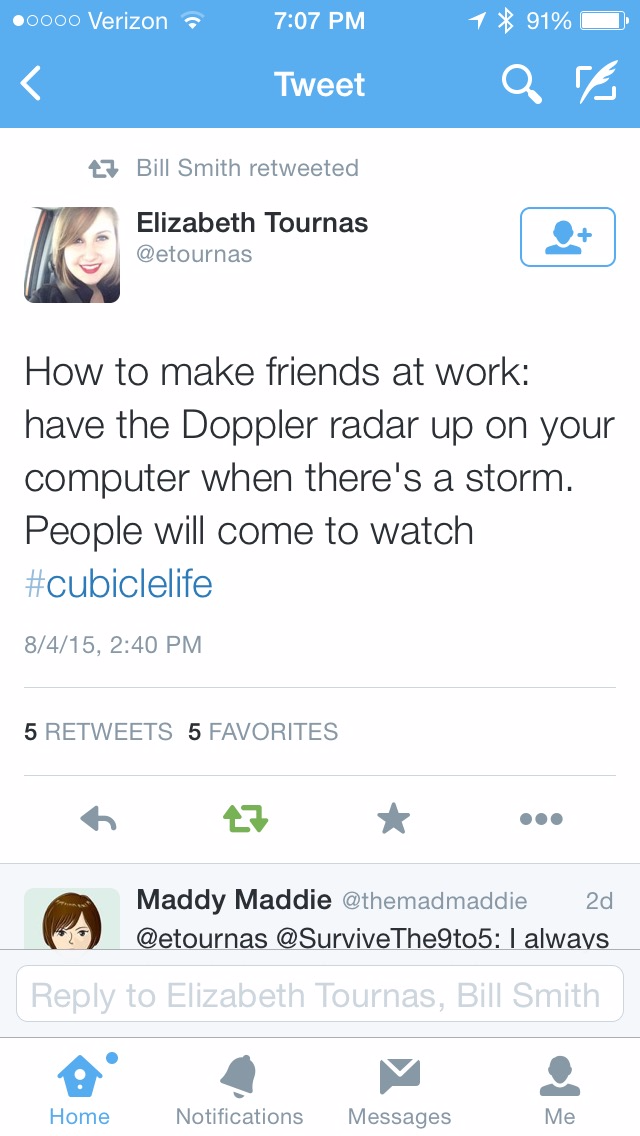 May 2016
On May 6, towards the end of the weekly test team meeting, there was a discussion about what people thought were their favorite weather conditions. Kevin stated, "I like it when CAPES and shear are high!"
June 2016
Scott Nicholson - Omaha, NE
On June 24, Scott was at The College World Series in Omaha, NE, and posted the following on Facebook with the comment "Best...BandAid...Ever!":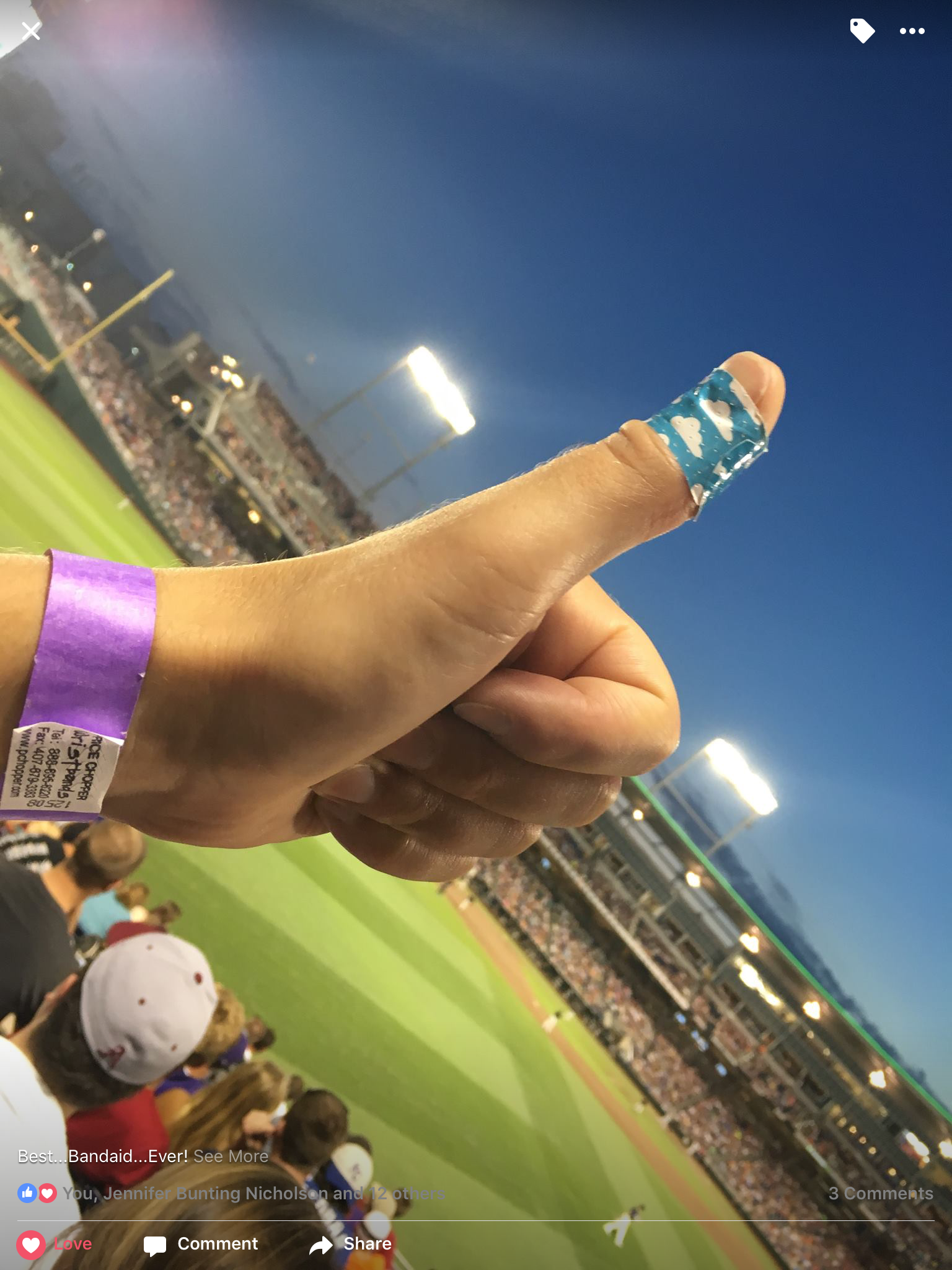 August 2016
Ashley Welty Miller - NOAA
On August 15, Ashley posted the following: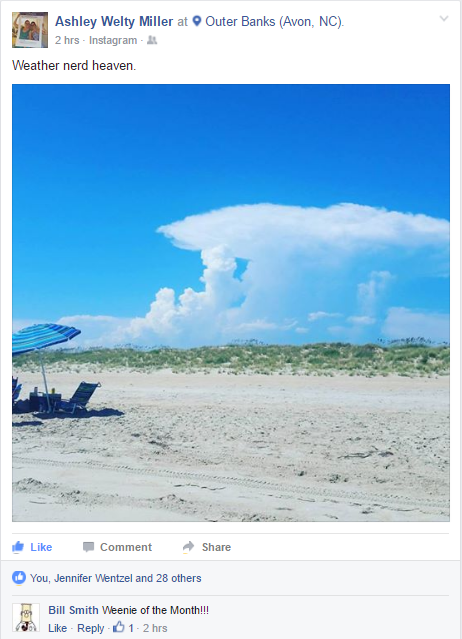 January 2017
On January 9, Richard tweeted the following: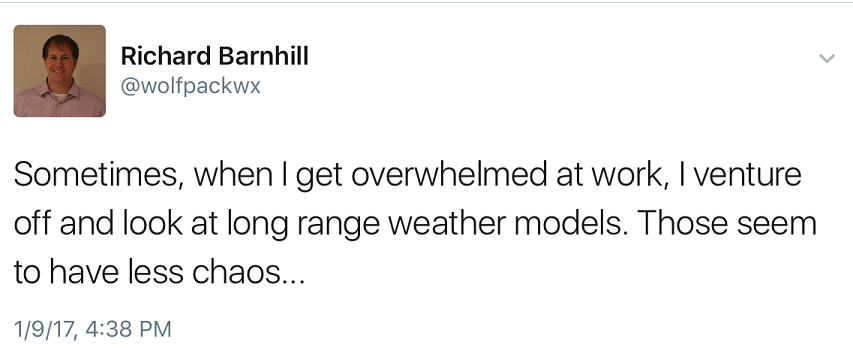 September 2017
On September 14, Richard tweeted the following:

On September 16, Bill was busted by his wife, Marla, for being a weather weenie. He was playing with Trixie, his West Highland Terrier, and then manuvered her so that he could watch the hurricane update.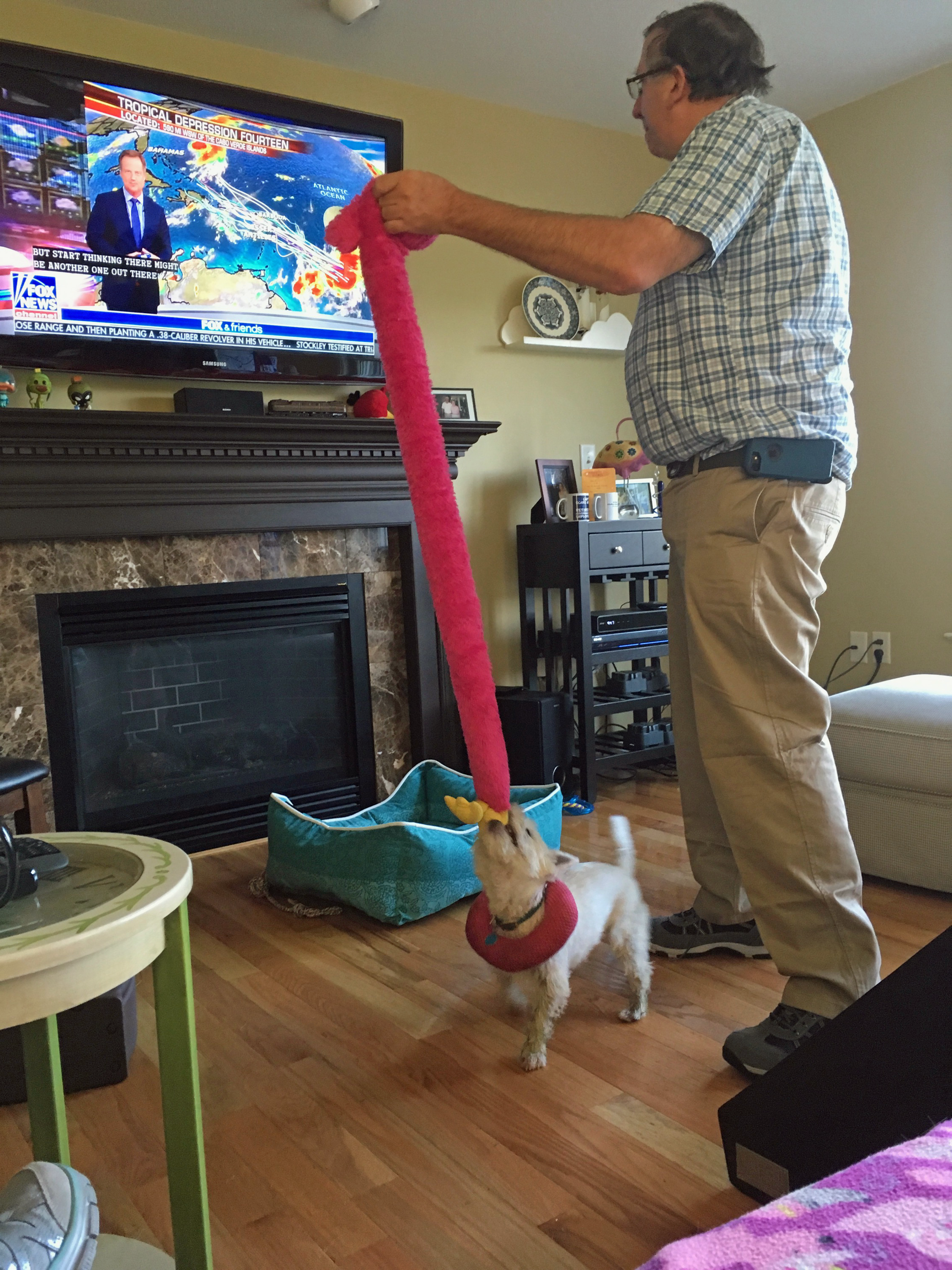 The recent hurricane events seem to have brought out the weeniness that exists at NOAA. This was posted on Facebook on September 19.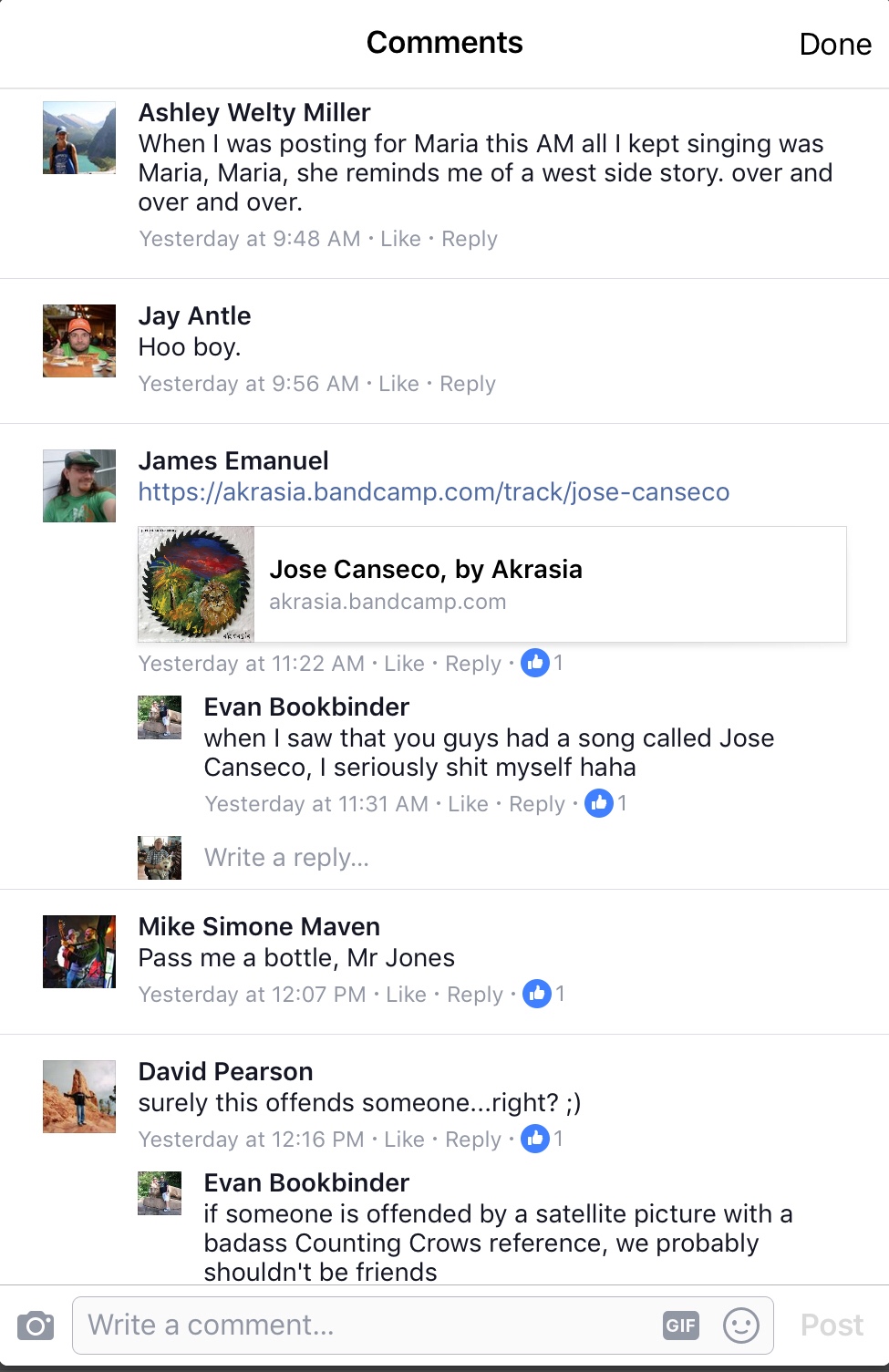 On June 29, Richard tweeted the following:


Marla Smith and our terriers, Toby, Tillie, Trixie and Tripper - Stormstown, PA
During the morning of April 13, Marla looked out front window and said, "Isn't that a sundog?"
All four of our terriers immediately and excitedly went to the windows.
Tom Niziol, retired NWS and Weather Channel forecaster, and a former colleague from SUNY - Oswego,
revealed himself to be a true weather weenie. On August 6, he posted the following image on Facebook.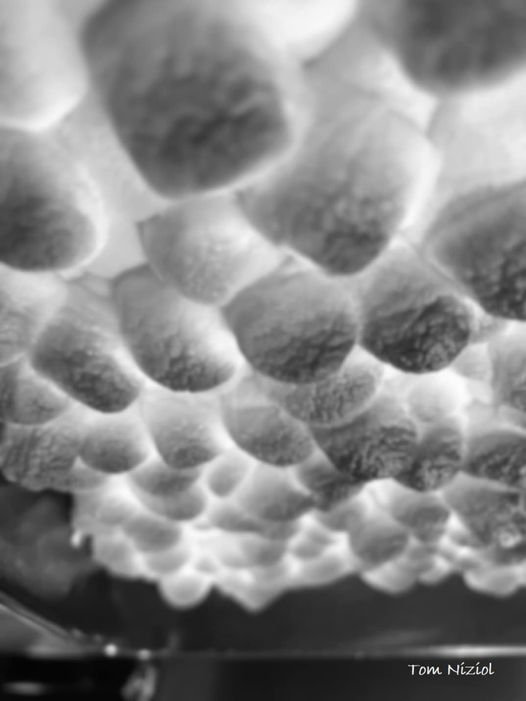 It is a dish topped with baked marshmallows and Tom immediately thought of mammatus clouds. He
then took a photo, turned the photo upside down, and voila, Cumulus Marshmallowus Mammatus!!