William Edward Smith
---
Biography
I was born in Brooklyn, New York, and spent the first 18 years of life there. I was a student at P.S. 207 and Marine Park Junior H.S. #278. In June 1973, I graduated from Brooklyn Technical High School. I then attended The State University of New York College at Oswego, where I graduated in May 1977 with a degree in meteorology. After that, I attended The Pennsylvania State University Graduate School in State College, Pennsylvania, until 1979, and then transferred to the graduate school at The University of Nebraska-Lincoln in 1980. I spent most of my graduate work at The Panhandle Research Station in Scottsbluff, Nebraska, which led to a Masters degree in May 1982.

Not long after I left Nebraska, I accepted a position at The Goddard Space Flight Center in Greenbelt, MD with The Goddard Laboratory for Atmospheres. I worked with the physics and hydrology portions of global climate models, analyzed model output and analyzed satellite data.

In 1988, I met Marla Dombroski, in Rockville, MD. We were working as volunteers for a hearing impaired telephone relay organization. In October 1989, we were married in State College, Pennsylvania and settled into an apartment in Gaithersburg, Maryland.

In 1991, the following was published in Weatherwise magazine: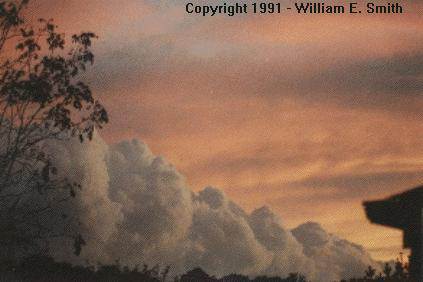 Honorable Mention, Weather Events of 1990, 1991
Weatherwise Photo Contest Weatherwise Vol. 44, No. 4
Taken at Gaithersburg, MD - Aug. 1990 - Pentax, 80mm lens, Kodak Gold 200
In the fall of 1991, we decided to purchase a home in Bowie, MD. In May 1992 we moved into our first house.
In June 1994 I passed my amateur radio exams to obtain my Technician's license. I obtained my General in 2000, and I passed my Extra exam in July 2004. My call sign is WX2DX.
In December 1995, I accepted a position with an off-site contractor to work with the Earth Observing System Core System (ECS) Project. In January 1998, I was moved back to Goddard to work with the Science Software Integration and Testing group at The Goddard Earth Sciences Data and Information Services Center. In April 2003, I was promoted to Technical Lead. Our group tests Moderate Resolution Imaging Spectroradiometer (MODIS) - Product Generation Executives (PGEs).
In November 2003 we moved into a larger home in Bowie, MD.
In 2006, SSAI lost the SESDA II contract to Adnet Systems, Inc. Shorty thereafter, I was told my services were no longer required.
In 2007, I was hired by Fairfield Technologies, Inc. to work on testing the Advanced Weather Interactive Processing System for The National Weather Service.
In 2009, I began work with MDA Information Systems as a meteorological software developer. However, they planned to move to Gaithersburg, MD, which is too far of a commute.
In 2010, I started work with Carr Astronautics as the test lead on the GOES-R project. Now known as GOES-16, it was successfully launched in November, 2016.
In 2011, I went back to work testing the Advanced Weather Interactive Processing System for The National Weather Service as a contractor with Fairfield Technologies, Inc.
In 2015, I left the Advanced Weather Interactive Processing System and started working at The NWS National Center for Environmental Prediction NCO as a subcontractor at SGT, Inc. (which has been acquired by KBR).
In 2016, my wife, Marla, retired from the EPA, and I quit work to move to Stormstown, PA.
---
Links
---


---
Copyright © June, 2019, William E. Smith, Last revised: June 16, 2019