The Offical Snowcat Contest Page
The Offical Snowcat is located at 40.79 N 78.01 W (Stormstown, PA)
Watch Here For Information Regarding Upcoming Contests

The 6th Snow Cat Contest may happen in 2018. Keep checking those charts
and watch this space for more information.
Contest Rules

Use your best method(s) to forecast the snowfall at Stormstown, PA for the stated 24-hour time interval.

Then e-mail it to wx2dx.stormstown@gmail.com, with the subject: "Snowcat," by the stated deadline. This will prevent hedging.

All late submissions will be posted as unofficial and will be disqualified from winning.

The winner will be the one who submitted a forecast closest to the total snowfall as measured by The Official Snowcat
.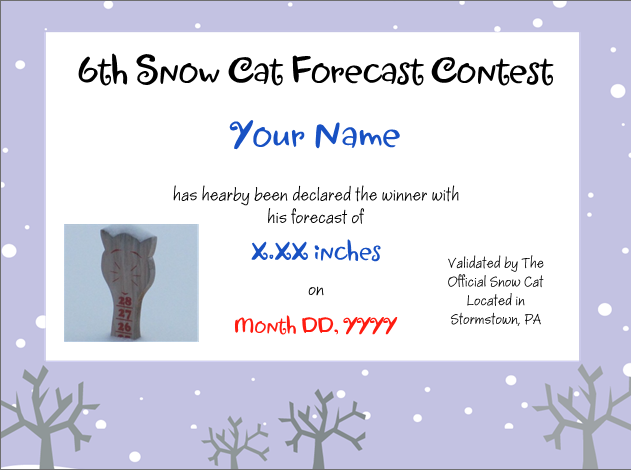 Winners are presented with a framed certificate proclaiming his/her forecasting prowess.

Past Winners


Andrew Lare - 2014
Anthony Nugnes - February 17, 2015
Teena Lavu - March 6, 2015
Richard Barnhill - January 24, 2016
Josh Huber - March 14, 2017


William E. Smith, Revised - December 27, 2017