The Offical Stormstown Snow Contest Page
The measuring site is located at 40.79 N 78.01 W (Stormstown, PA)
Watch Here For Information Regarding Upcoming Contests

The Snow Cat has been retired due to the fading paint. I could not locate a new one and they may be discontinued. A new measuring stick has been appropriated and a camera will be set up soon.
Contest Rules

Use your best method(s) to forecast the snowfall at Stormstown, PA for the stated 24-hour time interval.

Then e-mail it to wx2dx.stormstown@gmail.com, with the subject: "Snowcat," by the stated deadline. This will prevent hedging.

All late submissions will be posted as unofficial and will be disqualified from winning.

The winner will be the one who submitted a forecast closest to the total snowfall as measured by The Official Snowcat
.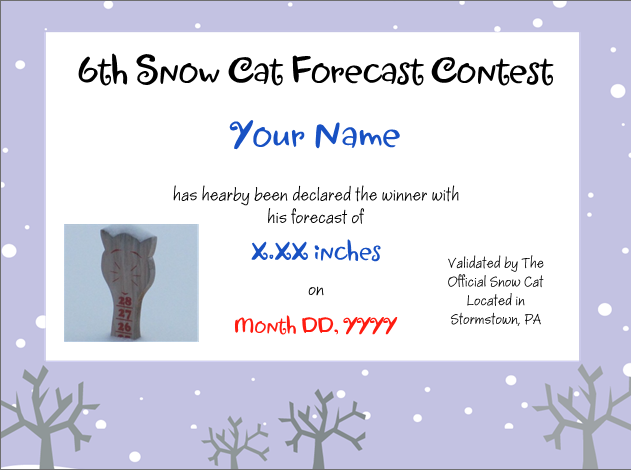 Winners are presented with a framed certificate proclaiming his/her forecasting prowess.

Past Winners


Andrew Lare - 2014
Anthony Nugnes - February 17, 2015
Teena Lavu - March 6, 2015
Richard Barnhill - January 24, 2016
Josh Huber - March 14, 2017


William E. Smith, Revised - October 20, 2018